THE HISTORY OF IPSDEN CRICKET CLUB
(1864 to present)

This history was compiled up to 2010, since that time we have learnt a great deal more about the clubs heritage, and hope to update this page in the future. Please contact the club's historian Mark Hughesdon (email) if you would like to learn more.
---
Ipsden Cricket Club owes its creation to Edward Anderdon Reade (1807–1886), whose family have owned the Ipsden estate since the 16th century(ix).

E.A. Reade spent many years in the East India Company Civil Service, before retiring in 1860, and returning to England to take up residence at Ipsden House.

An entry in Mr Reade's memoirs, circa 1864(i), states that he "put aside one of the meadows for the boys to have as a cricket ground, to play with the village boys". The boys he refers to, were his sons Arthur Edward, Lawrence Edward and Bernard Edward Reade. It is believed that it is on that very meadow that Ipsden Cricket Club still plays its matches (pictured right).

An article published in Jackson's Oxford Journal in 1866(xiv) , references a cricket match played at Ipsden, between Wallingford Junior Cricket Club and an Ipsden XI. The Ipsden side was selected by Lawrence Edward Reade. Considering the nature of the opposition and the age of Lawrence (20 years old), the Ipsden side would have probably been just an informal youth XI. The article states that the Ipsden side won the match by 8 wickets, and after were 'entertained in a very hospitable manner' by Edward Anderdon Reade, Esq.


The next known documentary evidence of cricket at Ipsden is found in the newspaper "Jackson's Oxford Journal", which reports on several fixtures played in the 1890s. The newspaper records repeated fixtures played against Wallingford, played both away (in the Kinecroft) and at home (at Braziers Park).

The earliest of these records shows a game taking place in 1891(xv). In this match Ipsden scored 52 and 97 for 5, on their way to a comprehensive victory. The match report(xvi) for that game states that Ipsden were now a 'formidable eleven', and had won this fixture several times in succession.

Further sporadic fixtures have been found between 1891 up until 1905 (search concluded in 1905), although it is not known whether this is due to infrequent fixtures or infrequent recording.

Year
Date
Day
Home/Away

Opposition

Result
Source1
1891
May 16
Saturday
away

Wallingford U.C.C

won
JOJ
1893
May 20
Saturday
away

South Stoke & Woodcote (The Arding Challenge Cup)

won
HS
1894
June 21
Friday

away

Littlemore (The Fielding Gold Cup)

lost

JOJ
1894
June 6
Wednesday
Dorchester (The Arding Challenge Cup)
won
JOJ
1900
July 7
Saturday
home
Wallingford
lost
JOJ
1900
May 29
Tuesday
away
Brightwell
won
JOJ
1899
June 7
Wednesday
away
Warborough
lost
JOJ
1899
August 30
Wednesday
home
Wallingford Early Closers
won
JOJ
1901

June

away
Wallingford
JOJ
1901

July

home
Wallingford
JOJ
1903

May

away
Wallingford
JOJ
1903

July 7

Tuesday

home
Brightwell
JOJ
1904

July

Tuesday

home
Brightwell
JOJ

Notes:

1. Source: JOJ = Jackson's Oxford Journal. HS = Henley Standard

An example of a match reported in Jackson's Oxford Journal (1899) is shown below.


Jackson's Oxford Journal : 2nd September 1899

This match was played on a Wednesday which, to this day, is still early closing time for most shops in Wallingford - presumably reason for the name of the Wallingford side. Regulars in the Ipsden line-up at that time included Alfred Charles Arding, Francis Hillier, James Day, brothers Andrew & Maurice Dando, and brothers Walter, Cecil, Henry & Edwin Hatt.
---
The club appears to have benefited from the involvement of Alfred Charles Arding, Esq. (born 1858, Wallingford). Arding, who owned the

Braziers Park

estate, was a prominent figure in Wallingford society. As well as being Director of the Wells Brewery in Wallingford, he was a Justice of the Peace and Capt. and C.O. of the Wallingford Reservists. He was also a keen sportsman, being President of the Wallingford Athletic Club, involved in Wallingford Hockey Club, and captaining Wallingford Cricket Club. During the 1890s some of Ipsden's home matches appear to have been played at Braziers Park.

The club has in it's possession the A. C. Arding Village Cricket Cup (pictured, right). It appears to be the prize awarded to the victors of an annual contest between a combined Ipsden and Checkendon side, versus amalgamated local rivals South Stoke and Woodcote. Results of matches played between 1892 until 1896 are engraved upon it. In more recent years the cup was used as the trophy for the Ipsden CC vs. President's XI fixture (1998–2005).

Jack Hatt, who's father Walter played in the 1893 Arding Cup fixture, wrote to a local newspaper in 1989(iii), recalling his father's involvement in the match, together with the scorecard (pictured below).

The scorecard records that Ipsden and Checkendon won the match by an innings and 6 runs. A. C. Arding himself opened the batting and scored 10 runs, however it is apparent from the scorebook that it was the return of Walter Hatt and John Frewin, with 10 and 8 match wickets respectively, which appears to have won the contest.

There is a literary reference to cricket at Ipsden, written in a book called "Charles Reade, as I knew him", published in 1903(ii). Charles Reade (1814–1884) was the brother of Edward Anderdon Reade, the cricket club's founder. As well as being a novelist of some note, Charles Reade was also a prodigious cricketer(xvii), playing for Magdalen College, Oxford.



Charles Reade (1814-1884)
In this book, a passage is written by Arthur Edward Reade recalling that his uncle Charles was once pressed into playing for Ipsden CC:
"My father converted one of the meadows at Ipsden into a cricket ground. On one occasion the village club was one short, and we pressed Uncle Charles into the service. "Everyone remembers his cloth boots and with kid tips and his baggy pantaloons. Well, he wore them on this occasion, and a remarkable and grotesque figure he looked when he took off his coat and went into wicket"

"He went in last and was [not] out in twelve runs, the Ipsden Club winning with a few runs to spare. My father [Edward Anderdon Reade] went to congratulate him, whereupon he said in a solemn way : "I am still not-out."

"Twenty years ago I made fifty-two and was not-out for Magdalen!"
---
The Reade family has continued to have a strong connection to the club. Ipsden CC club's crest: a falcon (as shown on the club tie below), owes its origins to the Reade Coat-of-Arms (below) - which itself features a falcon standing on the stump of a tree ("beaked, belled and jessed").

The Latin inscription "Cedant Arma Togae"
translates loosely as "let arms yield to the cloth", or
as former president Col. A. H. N. Reade himself once
suggested "The umpire is always right!".
---
Whilst it is possible that the club remained active throughout, the next documented evidence of the is to be found in the Berks & Bucks Observer, where fixtures are published for a small number of matches (mainly against Wallingford and North Stoke). However, the club was recently (2010) made aware of an old Ipsden CC accounts ledger book starting in 1936.
s club is not until 1928, where a couple of fixtures are reported in the Berks and Bucks Observer(ref).
1930...
An article was published in the Henley Standard(viii) in 1989 on the occasion of the clubs 125th anniversary. The article described a match in that took place in 1930 between Ipsden and Woodcote.
(L–R) Back Row: Fred Butcher, G Hasthorpe, B Collis, Allaway, H Anderson, R Higgs, D Slade.
Middle Row: Allaway, Tullock, Webb. Front Row: B Allaway, Eddie Burton, Osman
The contest itself appears to have been a little one-sided, with Ipsden's opening batsmen scoring 100 runs each, before both retiring. Worse was to follow for Woodcote, as they were dismissed for a total of just 8 runs in reply. The full article ("125 Not Out") can be viewed here
The photograph (left) is reputed to date from the 1930's. It is noticeable that the wicket keeper is wearing gloves and leg-guards, suggesting some formality to proceedings.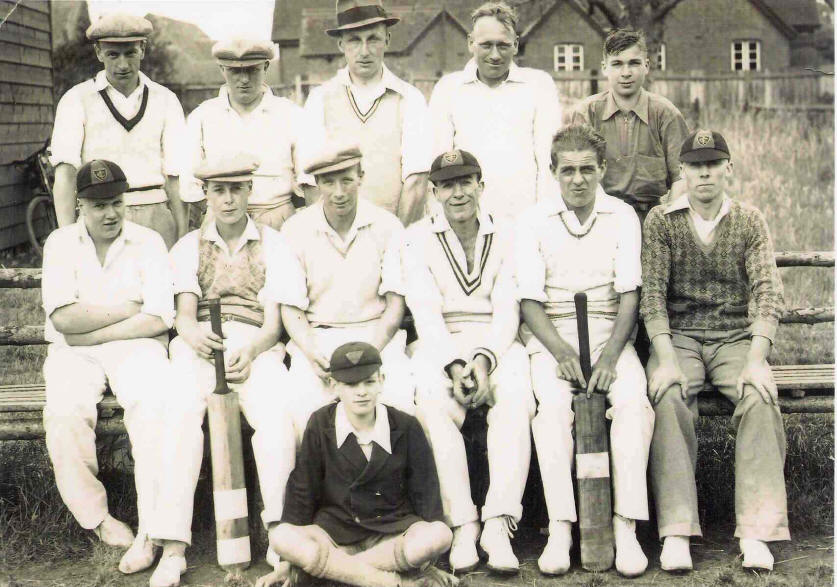 Ipsden CC - c1935 (from left-to-right)
Back Row; Dick Slade, Bill Green, Harry Anderson, William Espin, Bunny Newman.
Front Row; Frank Holtom, Bert Butcher, Bert Potter, Horace Potter, Frank Tullet, Nolan Didcock,
Seated; Eric Allaway

1939-1945 - WW2
There is reference to a cricket match being played between Ipsden and Emmer Green in 1947(x), but again, the source might be the same single fixture as referenced in the Henley Standard.
1949....
By 1949 Ipsden were back up to playing regularly on Saturdays, together with a number of Sunday fixtures. Typically, the cricket club would arrange around 25 fixtures, usually playing the same side both home and away over the course of the season.
At that time, the Club President was Mr Adrian F Williams, father of current president Vaughan.
Another familiar problem for the Cricket Club in the 1950s was the reluctance for some members to help prepare the ground for match days. At the 1953 AGM it was proposed that "the players should come up on Friday nights to prepare the pitch for Saturday & Sunday matches" and to "help cut the grass on the outfield". . We are not sure of the success of the drive for help on Friday nights, but the club did come up with an efficient way to deal with the long grass on the outfield. Mr A Williams... - sheep! On several occasions in the 1950s
1951: The next question was the long grass on the outfield, Mr Small proposed that we should try and get some sheep on it in the winter; it was agreed and left in the hands of Mr Skinner.
The next question was raised about the long grass round the pitch, after a long discussion Mr Williams said that he would see Mr Deeton about some sheep to eat it off so the members thanked him for his kind offer.
1955: Mr Skinner thanked Mr Williams for the loan of the sheep which were sent to eat the grass off the cricket field also Mr Williams was asked if he would be _______ to see Mr Deacon about sheep to eat the grass this season.
President

Adrian F Williams

Vice President

Michael Reade, Col. F. Ward

Treasurer

Martyn Skinner

Hon. Sec.

Nolan Didcock

Captain

Bill Perkins / Mike Lindsay / H Potter

Vice Captain

Mike Lindsay / H Potter / Frank Holtom / Bert Butcher

1953-1960(vi)
The club also elected a (general) Committee, a team selection Committee and an Entertainment (fund raising) Committee.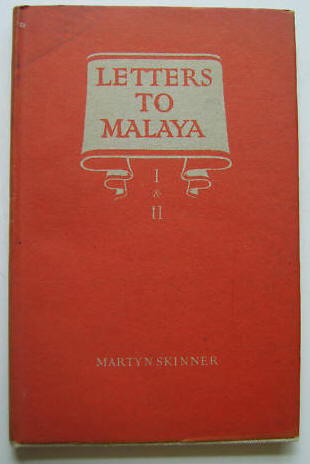 It was pleasing that as far back as 1953, the importance of the Cricket Tea's was still as significant as it is today. At the 1953 AGM it was suggested that "the pavilion was not big enough to get round with cups [and plates] for teas and cakes". This matter was addressed by requesting to use the school's facilities on match days. No doubt influenced by club committee member Rev. Harrison – who was not only the local vicar but also one schools' management committee – the school agreed. The club took advantage of this for several years, until in 1959 when the Oxfordshire Education Committee sent a letter requesting payment for "Wear and tear: 2/6, Use of sink: 1/-" and "Cleaners pay: 4/4¾". It was shortly after this that the club ceased to use the school's facilities.
.....Mr Skinner suggested that we should start Sunday matches at 2:30 instead of 3pm and stop play at 6pm when there is evening service at home so if any one would like to go to church they can.
In the 1950s the records show that a number of 'fun' matches were played. In 1951 Mrs Williams (wife of then President Adrian) put together a boys & girls team to play against the Ipsden boys & girls...... - gents vs ladies

1951 Committee Meeting... (held at Ipsden Farm - M Skinner)

"The next question was the long grass on the outfield, Mr Small proposed that we should try and get some sheep on it in the winter; it was agreed and left in the hands of Mr Skinner"




1954 - AGM in village hall

1958 Mr Butcher proposed that it would be a good thing if we could get some better teams to play and it was agreed by the committee to get the Sec. to write to different clubs and fix some matches up with them.

Very special match reports (and scorecards) exist for two fixtures played against Hailey in 1959 and 1960 – 'special' in that they were written by a very young Vaughan Williams, Ipsden's Current President. Vaughan who's father Adrian was at that time our Club President has continued to arrange for a Hailey XI to play Ipsden........
Those that only knew our former president Dan Reade in his latter years, might be surprised to read the following extract from Vaughan's 1960 match report:
"Maj. Dan Reade made an astonishing catch at first slip, jumping high to his left, to catch the gallant Bill Perkins"
Sadly, by 1961 the club's membership was extremely low - to such an extent that the club did not have enough members to raise a team(xviii). With the agreement of the remaining members, it was decided at that year's AGM to close down the club(xviii).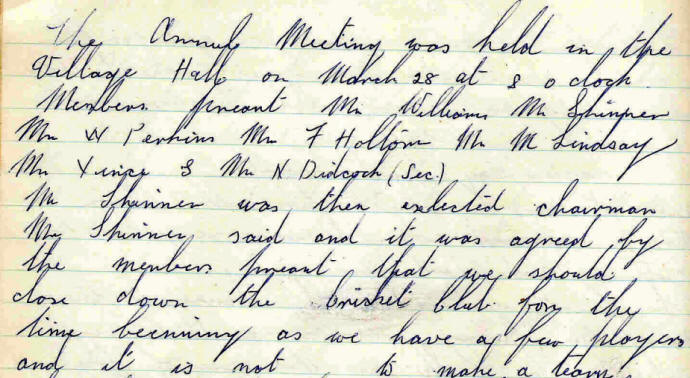 Present at the AGM were club members: Bill Perkins (Hon. Sec.), Adrian Williams (President), Richard Skinner, Frank Holtom, Mike Lindsay, Mr Vince and Nolan Didcock.
---
The cricket club then lay dormant for a number of years, with the ground being landscaped for use as a football pitch from 1979.
In early 1983, a few local villagers, lead by Richard Raynor, wanted to bring back cricket to the village, and set about resurrecting the club.
The following notice was circulated, hoping to recruit a few players.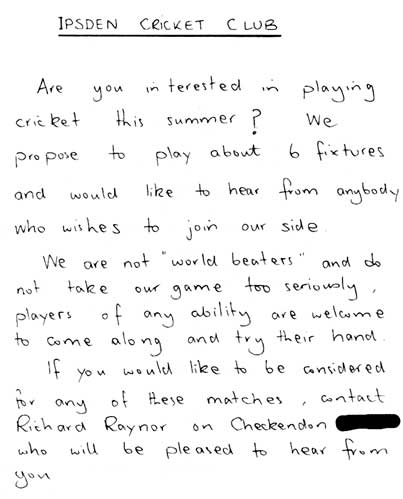 Encouraged by a favourable response, arrangements were made to play a small number of fixtures against a mix of established local cricket sides, and informal XI's.
With financial assistance from Vaughan Williams, the club was able to purchase a few essential items of essential equipment, in readiness for the inaugural season. A borrowed mower and a small, very old roller was put to use, and 'playable' cricket strip was created.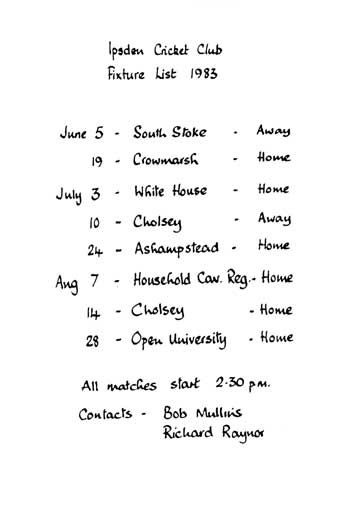 The season started with matches against local sides South Stoke and Crowmarsh, and then a fixture against the White House, Ipsden's local pub (results unrecorded).
The White House was to become the social and administrative centre of the club for the next 14 years, with by generous support provided by landlord Mike Furmage and his wife Julie[x]. The White House also provided Ipsden with several new recruits over the years, including, in that first season, Phil Houseman, who has gone on to make over 300 appearances for the club, and is currently the all-time leading runs scorer, record catcher and second highest wicket taker.
A further five matches were played during the inaugural season, however, the search for a victory was proving elusive, having lost all of the games played so far (usually before tea's, which resulted in a short over thrash being played after).
The match against the Household Cavalry Regiment XI (arranged by Maj. Henry Hayward), also provided an additional 2 bags of cricket equipment which were donated to us by the opposition. The fixture also introduced Steven Hyett to Ipsden, who umpired for the club for many years thereafter.
Ipsden finally broke their winning duck in the last game of the season, defeating the Open University XI by 91 runs.
The playing squad for the 1983 season included:
With the season over, an inaugural meeting(v) was held to formalise the club's structure. Nominations for offices were accepted. Quite surprisingly for a club with such limited membership, it was felt necessary to elect an "Under 18s Representative" to office. A very young Charlie Cox was duly appointed. 'Young' Charlie is currently clubs all-time leading appearance maker (with over 315 appearances), second highest in the all-time runs table and holds the record for the most runs in a season (714).
A particular matter of concern at the meeting was the state and size of the current 'pavilion' – a very small, rapidly deteriorating, wooden hut, that had definitely seen better days (below).
In the short term, the club had to make do, and thanks to a small loan from Oxfordshire County Council, the building was made more bearable.
By 1990, the club had sufficient resources to go on their first tour. Captain Stuart Kennedy was appointed Tour Sec, and organised three fixtures in Somerset, playing East Hunstspill CC, Old Pilotonions CC (also on tour) and Roadwater CC.
A touring tradition was quickly established, and down the years we have played fixtures in Dorset, Nottinghamshire, Shropshire, The Isle of Wight, and have repeatedly visited the west country.
---
Incredibly, in 1992 Ipsden Cricket Club featured on the front pages of several national newspapers.
Between 1989 and 1995, Ipsden had organised an annual charity/fund raising cricket match against a side provided by local resident (and club Vice-President) Kevin Maxwell, son of the media and publishing tycoon Robert Maxwell[xii]. On the occasion of the 1992 match, national press and TV (including The Daily Mail, The Daily Telegraph, Sky TV and Central TV) descended on the ground, eager to record Kevin playing (following the collapse of Robert Maxwell's empire, Kevin had just become the biggest personal bankrupt in UK history, with debts of over £400 million, and faced charges of fraud).
Ipsden's astute treasurer David Horton charged the press £50 for the privilege of recording Mr Maxwell during the game. Some refused and attempted to photograph Kevin from the road using telephoto lenses – that was until it was decided to erect some screens, which unfortunately blocked their view!
Those that had made the £50 donation were able to see Jerry Swinburn dismissing Kevin for a golden-duck! Eagle-eyed observers may of course recognise Charlie Cox behind the stumps from the press clipping below.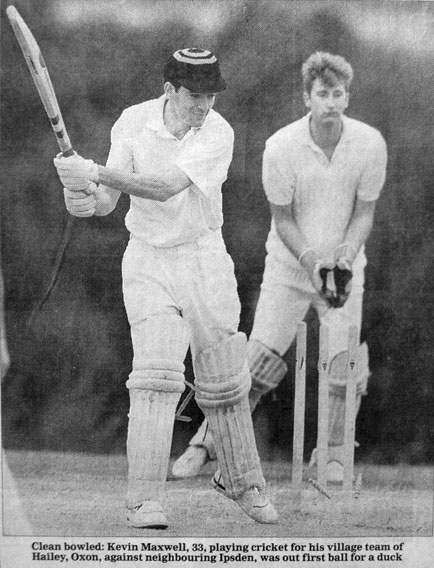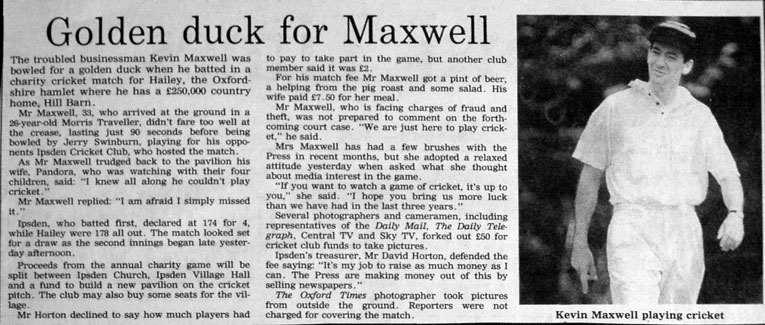 ---
In October 1992, a sub-committee was formed (Stuart Kennedy, Bob Mullins, Adrian Bollon and Bill Parkinson) to advance the plans to construct a new pavilion building.
By September 1994 (after a couple of re-applications), planning permission was granted by South Oxfordshire County Council for a new pavilion building. By the spring of 1995, the site had been cleared, and the concrete foundations laid, paving the way for the erection a wooden shell.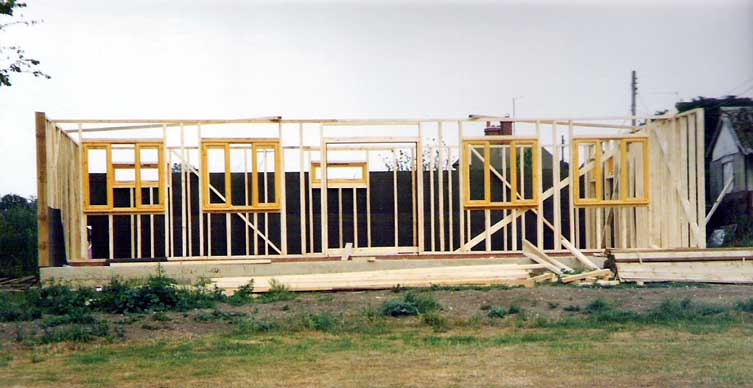 Construction was being directed by Bob Mullins, whose hard work and dedication was absolutely vital to the project.
By September 1995, Bob oversaw the next crucial phase, the erection of the roof.
Unfortunately, especially considering Bob's extensive experience in the construction industry, the roof was fitted in backwards![xiii]. Although Bob wasn't actually present when it was being fitted, it is still something that he is not allowed to forget to this day.
Over the next five years, due to a modest membership and limited cash-flow, progress was slow. However, by 1997 the kitchen was installed, the two changing rooms completed and the first toilet plumbed in.
Over the next few years, the work was completed piece-meal, until in 2003 the club felt that the building was in a suitable state to be officially opened.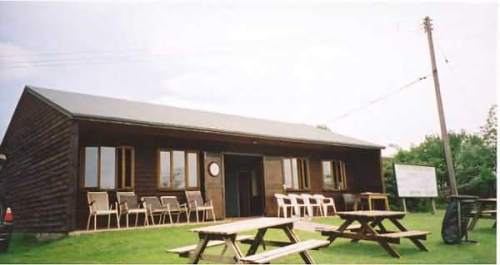 To mark the occasion, it was decided to hold a grand "Pavilion Opening Day". The day was chosen to coincide with the regular Ipsden CC vs. The Presidents XI fixture, and past players and friends were duly invited to take part in the event (either as players or spectators).
Those attending included: Steve and Edna Lambourne , David and Helen Osborn, Kevin and Frankie Jacklin, Bill and Jo Parkinson, Tim Streatfeild, Adrian Bollon, Andy Lock as well as committee members Bob Mullins and Malcolm Pitts who donned their whites for one final time.
We were also especially delighted to welcome back our 'founding father', Richard Raynor, who having been so heavily involved in the resurrection of the club, moved away from the village in 1984.
Fund-raising has always been an integral part of the structure of Ipsden Cricket Club. One particular event that has always been very successful is the clubs' Sportsman's Evening, which has been held irregularly at Ipsden since 1999. The focus of the evening is an after-dinner speech given by a prominent sporting figure. Such events have featured the following sporting celebrities coming to Ipsden:

Geoff Miller
(Derbyshire CCC, Essex CCC, England)


Graham Gooch (OBE)
(Essex CCC, Western Province, England)


Gordon Banks (OBE)
(Chesterfield FC, Leicester City FC, Stoke City FC, England)


Peter Osgood
(Chelsea FC, Southampton FC, England)


Robin Smith
(Hampshire CCC, Natal, England)


Fred Trueman (OBE)
(Derbyshire CCC, Yorkshire CCC, England)
The club has also seen several other famous faces attending matches over the years, including: Marianne Faithfull, Anton Rodgers, and most recently Robert Powell.
---
If you can help us with any more info on the history of Ipsden Cricket Club (or can correct of any inaccuracies), we'd be delighted to hear from you. You can email the club by clicking on the icon below.
chris.hughesdon@ipsdencc.co.uk
---
Notes