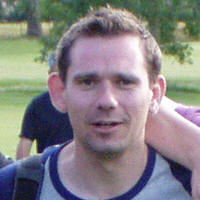 Name: Chris Catchpole
Cricket: RH Bat
Debut: 2007
Debuted in 2007 having moved into the Village the previous summer, Chris was introduced to us via the Bakers.
Appearances have been restricted by trips around the world necessitated by his work developing store loyalty cards and Charlie has started to call him Uri as at one stage he seemed to be on regular return flights to Russia.
A couple of knocks in the thirties have shown promise plus he certainly announced his credentials as an Ipsden cricketer by 'earning' the single biggest fine on the 2007 tour to Shrewsbury.
His playing style has been likened to the batsman in the table top game 'Test Match' with, at times, everything seemingly hinged at the waist.
Chris is a Norwich City fan which is in harmony with the club colours of green & gold but doesn't sit too well with us once being confused with Ipswich Cricket Club.
(MH 2008)
Chris moved out of the area during 2012.
BATTING

FIELDING

BOWLING

YEAR

M

I

No

Runs

50's

Best

Avg

4
6

Catches

Balls

O

M

R

W

Avg

S/Rate

Econ

5wkt

Best

2007
8
8
1
81
-
31*
11.6
9
-
1
-
-
-
-
-
-
-
-
-
-
2008
9
7
2
65
-
34
13.0
4
-
2
18
3.0
0
25
0
n/a
n/a
8.33
-
n/a
2009
6
5
1
16
-
9
4.0
2
-
0
5
0.5
0
5
0
n/a
n/a
6.00
-
n/a
2010
9
9
0
155
-
33
17.2
26
-
4
-
-
-
-
-
-
-
-
-
-
2011
2
2
0
11
-
7
5.5
1
-
0
-
-
-
-
-
-
-
-
-
-
Total
34
31
4
328
0
34
12.1
42
0
7
23
3.5
0
30
0
n/a
n/a
7.83
-
n/a
BEST BATTING:

SCORE
DATE
OPPONENTS
34
Sep 08
H v Isis CC
33
Jun 10
A v Cholsey CC
31*
Jul 07
A v Moulsford CC
31
Apr 10
H v Queens XI
31
Oct 10
H v Money Programme CC
HONOUR
YEAR
Parkinson Shield

2008